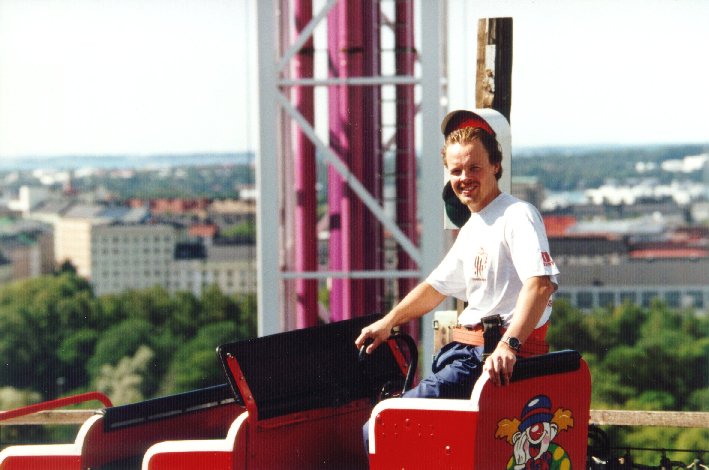 Brakeman Tony #5 at the top hill in summer 2002 (Picture Kari #10)
The Rollercoaster is the second oldest (carousel is the oldest) but biggest and most popular ride in Linnanmäki. The tack was created in 1951 by Danish people who had created also Bakken Rollercoaster (Rutschebanen) in 1932. Bakken and Linnanmäki Rollercoasters are designed by Valdemar Lebeck (DK) and Built by Sved Jarlström (DK). Linnanmäki Rollercoaster have approx. 800 000 passengers to take a ride every Linnanmmäki's summer season (about 100 days). So every one who comes to Linnanmäki, visit also at the Rollercoaster. The length of the track is 960 meters and the top speed is approx. 60 km/h.
Linnanmäki Rollercoaster have high qualified brakemen on the duty. Most of the brakemen have worked also many summers before at the track. Every summer the track got only a few new brakeman. They have to complete a two weeks hard training at the track, and then other brakemen decide if he/she are good enough to become a brakemen.
Between Brakemen there is hard hierarchy ruling. The hierarchy has always been at the track so the Brakeman knows at every situation what to do. The hierarchy is based the year when You have come to the track... More coming soon...
Welcome to Linnanmäki Rollercoaster to enjoy the traditional wooden smell and the fascination of the speed!

Brakemen 2001 (above)
Brakemen in Bakken (DK) Amusement park at summer 2002
Brakemen in Tivoli (DK) Amusement park at summer 2002
All summer 2002 brakemen and the training day at spring
Rollercoaster 40 year celebration 13.7.1991
Rollercoaster 50 year celebration 13.7.2001
Wooden Rollercoasters with the brakeman
Brakemen's picture gallery: 1993 1994 1995 1996 1997 1998 1999 2000 2001 2002
(Picture effects by Janne)

Mail to brakemen: jarrumies@lintsi.info or Send feedback!
Copyright © 2002 [Lintsi.info]. All rights reserved.